About WMT
Where Our Journey Started
It started 25 years ago with the optimization of online casinos and pharmacies - before Google, when it was Yahoo & AltaVista dominating the search engine landscape. We then leveraged these learnings and started helping dental clinics, family medical practices, cosmetic clinics, large National big box retailers, Government entities, wholesale and B2C food retailers, manufacturers, and...well you get the picture.  
Our digital roots go deep, while it all started with SEO our services expanded as new digital marketing options became available, i.e. Paid Search (Google Ads/MS Ads), and Social Media (Facebook, IG, Twitter, TikTok, etc...). And in order to make our campaigns more effective, many of our recommendations required making changes and improvements to our clients websites. This led to additional services like conversion optimization, as well as design & development. Over time our supporting services may have grown, but we've always remained focused on our three core services - SEO, Paid Search & Social Media Marketing.  
How We Do Things Differently
What makes WMT different than other digital marketing agencies?
First off, we are not a massive agency with 50+ employees. WMT consists of 10 core team members, plus a large network of skilled independent sub-contractors we've been working with for years when we need additional bandwidth.
Our smaller size allows us many advantages larger agencies simply can't provide. We leverage our team with a network of creative professionals, which allows us to rapidly scale to meet the demands of any project while keeping our infrastructure and overhead low. We do not outsource overseas, all of our team members are located here in Canada, with most being in or around the GTA.
This allows us to strip back the layers of bureaucracy you're likely to encounter dealing with larger agencies, where once the account is landed, tasks are worked on and completed by junior specialists, and "overseen" by senior marketing specialists.  We flip that on it's head by having our senior digital marketing experts do the bulk of the work, and are supported by junior level team members. This method simply produces better results.
Having worked with some of Canada's biggest brands and countless small and mid-sized organizations, in both B2B and B2C verticals, our smaller size doesn't mean small thinking. We offer a deep understanding and expertise with SEO, Paid Search & Social Media, coupled with responsive customer service, all of which ensure our clients' success. 
Related Digital Marketing Services
Solutions to Make Your Campaigns More Effective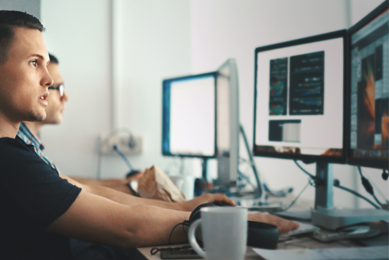 If it's time to update your site, or if a redesign makes more sense, or if adding functionality will increase conv. rates, we can help get it done.