SEM advertisers depend on search term insights to guide and optimize their Google Ads campaigns, however a recent change announced by Google has many marketers concerned that a valuable data point will be taken away.
What the Change to Google Ads Search Term Data Means for Paid Search Advertisers
One of the most valuable sources for paid search keyword information is the 'Search Terms' report which can be found in the Google Ads dashboard, as well as in Google Analytics, where it is referred to as 'Search Queries'. These reports contain extremely helpful data for marketers who want to refine and expand their lists of targeted keywords and phrases.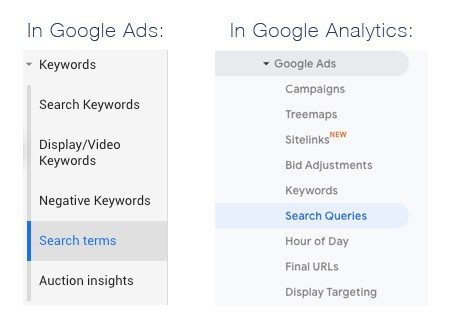 Within these reports, marketers can see exactly what words and phrases are being entered in to Google's search engine that result in an ad being served. For example, a bakery may be bidding on the keyword 'whole grain bread', but their ads may be triggered by a user searching for 'ancient grain bread'. This may be a keyword that the advertiser would want to add to their keyword list or incorporate in to ad copy to increase relevancy and boost campaign performance.
This data can also be very helpful in identifying potential negative keywords. Using the same example of a bakery, if an ad for this business is triggered by a searcher looking for 'whole grain bread recipe', the business may choose to add 'recipe' to their list of negative keywords if this information is not something they offer. This helps filter out traffic that is less likely to convert, thereby improving overall paid search ROI.
However, Google has recently announced a change to the Search Terms report that has the potential to significantly disrupt the way marketers optimize their SEM keyword strategy. Previously, the Search Terms report would show all the available variations that caused your paid search ads to appear. Moving forward, Google states that they will limit these reports to "only include terms that were searched by a significant number of users". What does Google consider a 'significant' number of users? Nobody really knows, unfortunately.
Google explained that the reasoning behind this change is directly related to potential privacy issues. The risk comes from when a user might include any personally identifiable information (PII) as part of their search, as this information would then potentially appear within the Search Terms report. While this change could theoretically affect only a very small portion of search terms, the exact impact could vary greatly from business to business.
The main cause for concern here isn't the restriction of search terms that contain PII, which we can all agree have a legitimate case for being excluded. The concern is about the vagueness of Google's statement of a 'significant number of users'. There are many instances where low-volume search queries prove to be extremely helpful in refining keyword targeting and negative keyword lists. Without this information, search engine marketers will be missing key insights in to SEM account performance that is critical to the optimization of campaigns.
It remains to be seen exactly how broad the brush will be that Google uses to mark search terms for restriction. Will it be literally ALL low-volume search terms that are tossed, or will there be some intelligent filtering in place to root out only those variants that are deemed to be a privacy risk? Time will tell, and as usual when Google rolls out a change, marketers will just need to adapt.
Fortunately, there are alternative and supplementary ways that marketers can work around these types of limitations to refine their paid search campaigns in a similar manner, such as strategic keyword research, A/B testing of keyword variants, and single-keyword ad groups, just to name a few. WMT leverages a comprehensive approach to SEM keyword strategy, and blends multiple methods of search query research and testing to produce the most effective keyword lists for our clients.
If your business would like to learn more about how these changes to Google's Search Term reporting may affect your campaigns, the team here at WMT can help provide the analysis and strategic guidance you need. Contact us today to get started with an SEM audit, and let us help your business succeed with a powerful paid search strategy.
About the WMT Blog
We are a digital marketing company and want to share ideas as inspiration for current and prospective clients.
Questions? Contact us today for more information!
Request a quick estimate on any of our professional services designed to help brands increase exposure across all the most important touchpoints - SEO, Paid Search and Social Media.
The Complete Guide to the Costs of Digital Marketing Campaigns When considering…